A CHURCH THAT STANDS ON TRUTH
OUR MESSAGE
God Is Our Maker
Satan is our Enemy
Judgment is Sure and Final
Eternal Life is our Goal
The Bible Is Our Guide
Salvation Is a Gift from God
Jesus Christ Is Our Savior
Obedience Is Our Response
The Church Is God's Battalion
The Holy Spirit is Alive and Active
Home & Family are God's Societal Building Blocks
Our Fellowship is with the Believers
The Resurrection Is Our Hope
The Christian Life is our Walk
OUR MISSION
It should be very clear to every believer in this congregation that God wants us to move forward with His mission of seeking and saving the lost. In moving forward with His mission, especially with new ideas and new ministries, there will always be times when there are questions and that is ok. We have our sights set on being a people who pursue everything, even the questions, based on the Biblical pattern. We desire to line up with the will of God as revealed in the Bible. Whenever we find a place where we are not in line with God's will, we will change. As leaders, we ask you to go with us as we seek this "old path", help us with your own wisdom as you find it revealed in the Word; study yourselves to show yourselves approved unto God; walk with us down the "old path" as it leads us to a new anointing and new height of unity.
OUR HERITAGE
A Cappella Worship
The Cornerstone congregation is committed to our heritage of a cappella music in our regular corporate worship times on Sundays and Wednesdays. We do, however, encourage everyone to have Christian music as their music of choice as opposed to what the world offers. We are steadfast in our commitment to a cappella music for the regular worship at Cornerstone
Communion
In our attempt to reflect the practice of the earliest church, the Cornerstone family observes Communion at least once each Sunday. The early Christians typically observed communion along with a common meal and sometimes it was daily (Acts 2). Paul told the Corinthians (1 Cor 11:24-26) the purpose is "proclaiming the Lord's death until He comes". This is our purpose.
Baptism
We teach baptism as the apostle Paul taught the Romans—in baptism, he says that we are baptized into Christ Jesus, into His death, united with Him, our old self is crucified with Him, our body of sin is done away with, we die to sin, and we are justified from sin.
Shepherd Leaders
The three terms used in the New Testament referring to church leaders are translated: shepherd, elder, overseer. The Cornerstone leadership is focused on the goal of shepherding, mentoring, and equipping people. Oversight of church affairs
resides with the shepherds in the interest of ensuring the spiritual well being of people.
OUR GUIDING PRINCIPLES
We Aspire to be Non-Denominational Christians
Simply put, we seek to be a fellowship that belongs only to Christ. We do not desire that "Church of Christ" be interpreted as a denominational affiliation, but as a descriptive term, (i.e., a gathering of Christians belonging to Christ). Our goal is not to promote some sectarian form of Christianity, but merely to be faithful, obedient followers of Jesus. Becoming a member at Cornerstone is not joining a "Church of Christ" denomination, but simply becoming a part of a fellowship of Christians.
We Aspire to be Christians Only, but Do Not Claim to be the Only Christians
We try to be as faithful and obedient to God as we possibly can, but we never assume God's job of judging the eternal destiny of others. To be sure, not everyone who claims to be a Christian is one. However, anyone who has entered into a saved relationship with God through Jesus Christ is a Christian, a brother or sister in Christ, and a member of Christ's church.
We are an Autonomous Fellowship of Christians
This means that we have no organizational ties to any other local church. We are accountable to no one but God. There are no central headquarters, hierarchy of church government, or governing board beyond the local church. We serve under a plurality of shepherds who provide spiritual leadership as we seek to follow no one but Christ.
HISTORY OF CORNERSTONE CHURCH OF CHRIST
Formally Macedonia Church of Christ-located at 12101 Highway 20 in Florence Alabama changed its name in 2015 to Cornerstone Church of Christ. In 2002 the leadership of Macedonia, then located near County Road 5 and near intersection of Natchez Trace Parkway and Alabama Highway 20 made the decision to build a new facility, relocating to a more visible location in the community of Central Heights. Some members stayed at the "old building" and made the decision to be identified as "Church of Christ at Macedonia". Because of years of confusion with having two "Macedonia's", the decision was made to change the name of the new to Cornerstone Church of Christ.
Tracing its roots to the early 1800s, the Macedonia Baptist Church originally met in homes with Joseph Fanning, a visiting evangelist. In 1834. J.W. Smith supervised a building on this site. In 1880, T.B. Larimore, an evangelist among the Churches of Christ was asked to preach. The group then changed its name to Macedonia Church of Christ, and now to Cornerstone Church of Christ. This congregation has made a powerful local and worldwide impact.
In 2014, the Central Heights Church of Christ leadership made the decision to join (then) Macedonia Church of Christ and bequeathed its buildings and land located on County Road 200 to Macedonia. The Central Building is currently being used as a Sharing Center that serves West Lauderdale County and South Wayne County TN with food and clothing.
If it's your first time at Cornerstone you can expect to be genuinely welcomed into our family.
Our services include a capella, or "voices only" music. Our worship leader and praise team will lead the way, so if you know the songs please join us. If you don't, feel free to listen to the words we are saying with the songs. We will have prayers led by men in our church.
We practice weekly communion. You may know it as "The Lord's Supper". This is a time to reflect on what the death of Jesus means to us as Christians. We practice "open communion" and invite anyone who is a follower of Jesus to participate with us.
Another weekly practice is taking a collection. You may have heard of it as "tithes" or "offerings." It's a very important act of worship for to give money to God as we have been prospered. If you would like to join us, please feel free to participate. But as our guests, please do not feel any pressure to participate.
Finally, part of our service is a weekly message.
One question you may have, "What do I wear?" Our church members may wear a coat and tie, dresses or jeans and a t-shirt. Be yourself.
Central Sharing Center
3255 County Rd 200
Florence AL 35633
Phone: (256) 275 5520
Sonshine School
12101 Highway 20
Florence AL 35633
Phone: (256) 764 0803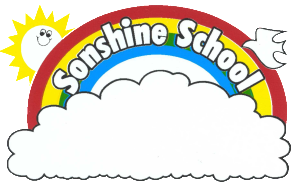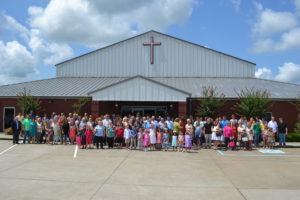 Cornerstone Church of Christ
(Formerly New Macedonia Church of Christ)
12101 Highway 20
Florence AL 35633
Phone: (256) 764 0803
Church Office Hours:
Tuesday thru Friday
8:00 AM – 12:00 PM
Office Phone: (256) 764 0803
Sunday Mornings:
Classes: 9:15 AM
Service: 10:00 AM
Sunday Evenings:
Service: 5:00 PM
Wednesday Evenings:
Classes: 7:00 PM